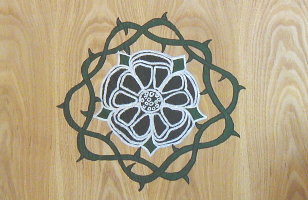 Meeting all of your tailoring needs, from medieval to modern.
Lyn Greaves * 20 Washington Ave. * Port Jervis, NY 12771
rosamund@thornyrose.com
The young master is wearing a lovely tunic in purple and yellow. Designed for the younger crowd, but based on our adult tunic, these garments are available in cotton, flannel, and wool/acrylic (we use the acrylic for ease of washing-- after all, kids have a tendency to get a bit dirtier than adults).

Prices from $20.00

Our little model is sporting a wool and flannel hood with the below ensemble. The hood is wool on the exterior, with a soft flannel lining-- to avoid the itching that can occur with wool. There are two buttons on the front opening for ease with donning or removal. Hoods are also available for adults- see our Miscellany Page

$25.00 each.

This lovely young lady is wearing our size small chemise in grey under a size small turquoise gown. The chemise is a child's version of our adult undergarment, and comes in 3 sizes- small, medium, and large. The gown can be side laced or laced across the back (and the front, but that is hidden under the front of the bodice) to fit just about any waistline-- available in three lengths (skirts at 24", 36", 45" long). The large sizes can fit some small adults.

Chemises are $15.00-$25.00
Gowns are $40.00 and up.

This mother and daughter decided that matching dresses were the way to go-- Mom is wearing our largest child gown, which is perfect in a tea length. Her daughter is wearing our smallest child size, and at this length can also be worn to school as a jumper.