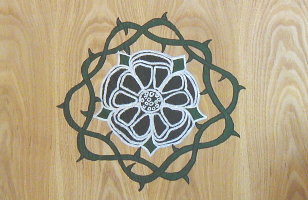 Meeting all of your tailoring needs, from medieval to modern.
Lyn Greaves * 20 Washington Ave. * Port Jervis, NY 12771
rosamund@thornyrose.com
Buttons
(Large page with lots of images, please be patient)
Clasps and Lacing Rings
Our variety of buttons and clasps can meet just about any need. Even if you don't see it here, please ask. We may be able to fit your requirements. Our clasps are steel, not pewter. Thus one does not run into the problem of stretching that can occur with pewter.
All styles of buttons and clasps courtesy of JHB International, Inc. or Dill Buttons