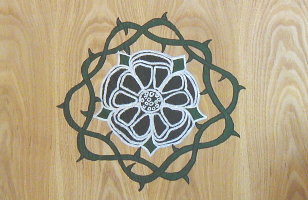 Meeting all of your tailoring needs, from medieval to modern.
Lyn Greaves * 20 Washington Ave. * Port Jervis, NY 12771
rosamund@thornyrose.com
T-Tunic: The basic garment through the 14th century for both men and women. Hemlines can be made to fall between mid-thigh and floor length. Fabrics range from simple cotton twill to wool and silk.

Prices start at $35.00

Viking-Style Pants: Baggy to the knee, and fitted along the calf. These pants are very similar to the mongol style, but fit into boots more easily. Stock pieces are made from striped cotton.

$35.00 a pair

Mongol Pants: Designed similarly to a pair of sweat pants, with drawstrings at the waist and ankles. Can be worn by both men and women- available in both solid and plaid, patterns vary.

$30.00 a pair

Doublets: A man's version of our basic bodice. It has a simple standing collar and button closure (buttons can be replaced with anything from our findings page-- buttons over $0.75 each will incur a small fee). The garment is reversible and has epaulets and peccadils like the ladies bodice, however, unlike the ladies version, there is no boning. 7 sizes are available off the rack (Jonathan, Piers, Gavin, Pisanello, Christopher, Dunchud, and Istvan). Custom sizes are also available upon request.
$110.00 each


The basic men's shirt, this garment was a staple of a 16th century male wardrobe. Worn under the men's doublet (above), it can be dressed down for a pirate look, or up for more noble attire. Available in chest sizes 50", 60" and 70" and in a variety of colors.

$60.00






100% stretch cotton, these tights come with a working codpiece that ties, and an elastic waist. The foot is styled similar to a tube sock, and can be cut to length for each individual. Colors vary. (available colors vary) Custom colors as well- contact us for current availability.



$40.00 each pair.