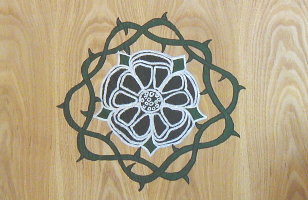 Meeting all of your tailoring needs, from medieval to modern.

Lyn Greaves * 20 Washington Ave.
Port Jervis, NY 12771
rosamund@thornyrose.com



E-mail us for orders. We currently don't have the capability for direct on-line ordering- as many of our pieces are one of a kind. We are quite willing to send out swatches or digital pictures for color and pattern.


Payment can be made in one of three ways:


check or money order (US funds) made out to "Thorny Rose" and mailed to the above address,

credit card (e-mail for more information, accepted card logos below),

or Paypal.

Please contact us for availability before remitting payment.

At the Pennsylvania Renaissance Faire- out at a show (yes, even when out for fun, I can't resist taking work with me. . )
Picture by James Gregory